Avaya IP Office 1400 Series
The Avaya 1400 Series combines the best of past and present. Fixed keys—familiar to any phone user—provide easy access to the most common features, while flexible soft keys provide contextual guidance and prompts for ease of use and efficiency.
In summary the Avaya 1400 series phones:
Designed for cubicle workers, sales staff user profiles
Supports 3 line appearances/ 8 feature keys.
The display on the Avaya 1408 phone measures two lines by 16 characters.
Avaya IP Office 5400 Series
All in one solution for the small to medium business market. Offers a full compliment of features that can be implemented to fit your business needs.
AVAYA IP OFFICE Features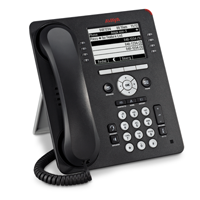 Avaya IP Office 9600 Series
This line of powerful phones offers brilliant audio quality, low power requirements, customizable options and performance. The phones feature context-sensitive graphical interfaces and large color touchscreens, which deliver increased call control while simplifying the traditional telephone experience.

Avaya IP Office J Series
Avaya is adding new designs for its industry-leading desktop phones with the J100-Series IP Phones, for a state-of-the-art user experience. These desktop devices are modern, connected, and personalized. Avaya's Essential Experience Portfolio will enable transforming the professional desktop experience by enabling customers to modernize their desktops and add new capabilities such as Bluetooth and Wi-Fi connectivity.

Avaya IP Office Vantage
Avaya Vantage™ is an elegant, multi-touch, customizable desktop device. It delivers high definition audio and video in a fresh all-glass design. Engineered for acoustic excellence, enterprise deployment, and security, customers have the ideal fusion of modern touch screen devices with the enterprise software tools that enable personalized user experiences. Whether using a ready-made application from Avaya, or embedding communications features within a workflow context, communications have never looked or sounded better.

Avaya OneCloud
With Avaya OneCloud, you can seamlessly scale your solution and get to market faster with always-on resources available to meet your needs. And with cloud technology, you'll never have to deal with technology obsolescence. You can focus on providing great customer experiences, improving productivity, and growing your business.